Note:
This is a
specific revision
of this page, and may be outdated, The current version is
here
. You can see the differences between this and the current revision
here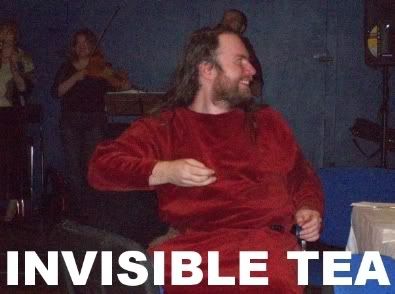 Tim Packer
Otherwise known as Mr. Tim, Tim Packer is a denizen of Durham, well known for being incredibly reasonable and unfailingly nice. Wolf Spiders nest in his beard – it is therefore advised not to fly aircraft low over his house.
Trivia
Mr. Tim is Nearly Jesus
Mr Tim is posher than you think.
Mr. Tim's grandfather was the last white headmaster of Daly College, Indore, where Iasus went to school. Small world, huh?
Mr. Tim is so civilised, he can conjure an invisible cup of tea, simply by force of will.
The position of web editor of DUTT is actually called "Tim Packer". It is currently occupied by Helly and Freya.
Revised by
Iasus
@ Tue, 02 Aug 2011 20:07:46 +0000
4 Versions
You Are:
3.94.129.211
(identified by host)
Login
(
New User
)